Kelsy the Deer: Pictures of the study animal
Kelsy was fitted with the collar on June 20th, 2007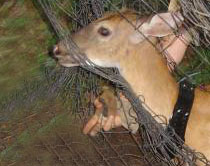 Kelsy, a female deer, a 1+ year old.
To get the Google-Earth file click here. (You must have Google-Earth (earth.google.com) installed on your machine) The viewing in Google-Earth is more informative. Use time bar on top of the Google-Earth screen! If you do not have GE, enjoy map below.
For some reason the map might not display if viewed from within Bryn Athyn campus. If you do not see the map, click on the "View larger map" below.

View Larger Map
Due to failure of the logicboard the collar was drop-off remotely by the electronical trigger a week later.

All pictures by Eugene Potapov, unless authorship is mentioned. Movies are here